Champagne was an important element of family celebrations while Sally Hillman was growing up, so her enthusiasm for this intriguing and diverse French wine was embedded from an early age.
Her maternal grandfather worked in the rural stock yards around Kyneton, Victoria, and was known for only ever drinking lemonade when he joined the boys for after-work drinks at the pub.
Teetotaller Pa, however, always made an exception for champagne at family celebrations, because he said that partaking in champagne wasn't really drinking! Champagne was for joyous times and it always lifted his spirits – and it became Sally's drink of choice for the same reasons.
Combine this early indoctrination with the fact that Sally shares her birthday with Saint Vincent, the patron saint of winegrowers, whose feast day is taken very seriously in Champagne, and it is easy to see that champagne was always going to feature in Sally's destiny.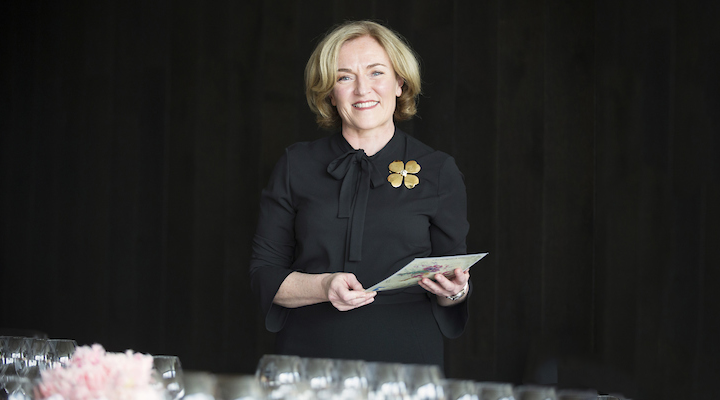 Although she loved the traditional champagnes that were commonly available in Australia, a fortuitous introduction to a "grower-producer" champagne opened a new world for Sally. Her fascination for these grower wines has blossomed ever since while still respecting and embracing the extraordinary vintages from the celebrated Grandes Marques.
Sally Hillman's depth of knowledge was recognised in 2018 when she was chosen as a finalist in the amateur category of the prestigious Vin de Champagne Awards, organised by the Australian Bureau du Champagne (a representative of the Comité Champagne).
Sally was keen to share her passion and make this complex appellation accessible and free from the obfuscation that surrounds a lot of wine discussion. She comes from a family of generous hosts, where delicious food, wine and entertaining with great style and aplomb were the norm, so not surprisingly, Sally used this background to create her much sought after Sally Hillman Experiences.
Showcasing the versatility of champagne and including an exceptional fine dining or tasting menu, Sally Hillman Experiences are sophisticated, memorable and fun with an educational aspect, as well.
A Sally Hillman experience demonstrates why champagne is a wine for all seasons. Participants will gain an understanding of seasonal food matching with various champagnes and the role the terroir plays in this choice. Sally has designed a map which clearly illustrates the connection between terroir, champagne style and season, and provides an entrée to this fascinating world.
For wine enthusiasts it is an opportunity to discover lesser known houses and to deepen their knowledge and love of champagne. For novices, there is an opportunity to learn more about the depth, character and quality that champagne has to offer.
Elegant experiences are tailored for all groups, from large gatherings to small, intimate tasting experiences and champagnes are chosen to enhance every stage of the meal, from apéritifs right through to dessert.