Looking forward
With a history coloured by the redoubtable widows covered in our last article, the next questions is: how are today's vigneronnes faring?
According to those living and working in it, the champagne industry is still male-dominated. Female growers account for about 14% of grape sales and the concentration of women in the industry is in the area of communication, PR and HR. There are some high profile female heads of House, but overall more than 75% of estates are run by men. About 60% of the students studying winemaking in the Champagne region are female yet there have only been five female chefs de cave – ever. The first was appointed in 2005 and the most recent in 2018.
Sandrine Logette-Jardin was the first female chef de cave in Champagne, appointed to the role after proving herself in the cellar for 14 years. Sandrine completed a BSc in oenology, followed by the Diplôme d'Etudes Supérieures Spécialisés in Oenologie des Vins de Champagne before joining the Duval-Leroy estate. She knew finding a job would be difficult, since women were not even allowed in most cellars at that time. Carole Duval-Leroy had recently taken over the family business following the death of her husband and she saw Sandrine's potential, hiring her to work in the lab. It was a wise move and Sandrine moved up through the quality control ranks to Quality Manager, and then was appointed chef de cave in 2005, a position she held until December 2005.
Change has come slowly – 13 years on, Séverine Frerson was appointed chef de cave at Perrier-Jouët. Technically this was the 6th female appointment to chef de cave, because Séverine had also been appointed chef de cave at Piper-Heidsieck only four months earlier, in September 2018. That appointment was seen as a significant and historical moment in Champagne, making her the only female chef de cave to oversee a "top 10 Champagne house".
Neither of these achievements came easily, with Séverine describing Champagne in a recent interview as a "hyper-masculine" world. Floriane Eznack told The Drinks Business' Lucy Shaw that it was still difficult being a female chef de cave.
"I've had to work harder than my male counterparts to prove myself and my ability because I'm a woman. I have three male colleagues and they still think I'm the gentle blonde who is more focused on communication than the technical side of things.
"It's exhausting having to constantly fight to prove that I'm capable of doing my job," she said. Eznack believes things are slowly changing for the better, with plenty of women poised to take over their houses in the next 10 years, but "it's still hard for women to reach the top in Champagne".
Women are joining forces to bring about change. For example La Transmission is a 10-strong all-female initiative founded by two pioneers: Anne Malassagne, a fourth-generation co-owner of her family Champagne house, AR Lenoble; and Maggie Henriquez who, as the president and CEO of Krug, is one of the most powerful and influential figureheads in the region.
Their aim was to bring together a group of female decision makers from the Champagne region with shared values and a passion for promoting the product to a new generation of drinkers. Anne Malassagne said the group is deliberately diverse, representing small growers and large houses; old labels and new; wine styles ranging from opulent to austere. However one characteristic is immediately obvious: most members bear the surnames of the well-known Houses they represent.
On the other hand, Les Fa'Bulleuses de Champagne is an association of seven young women from Grower-Producer champagne houses where the owners make champagne exclusively from grapes of their own vineyards. By design, it has seven members of approximately the same age but whose champagne houses represent seven different terroirs. Their name is created from "Fa" representing women and "bulle" French for bubble, the iconic property of champagne.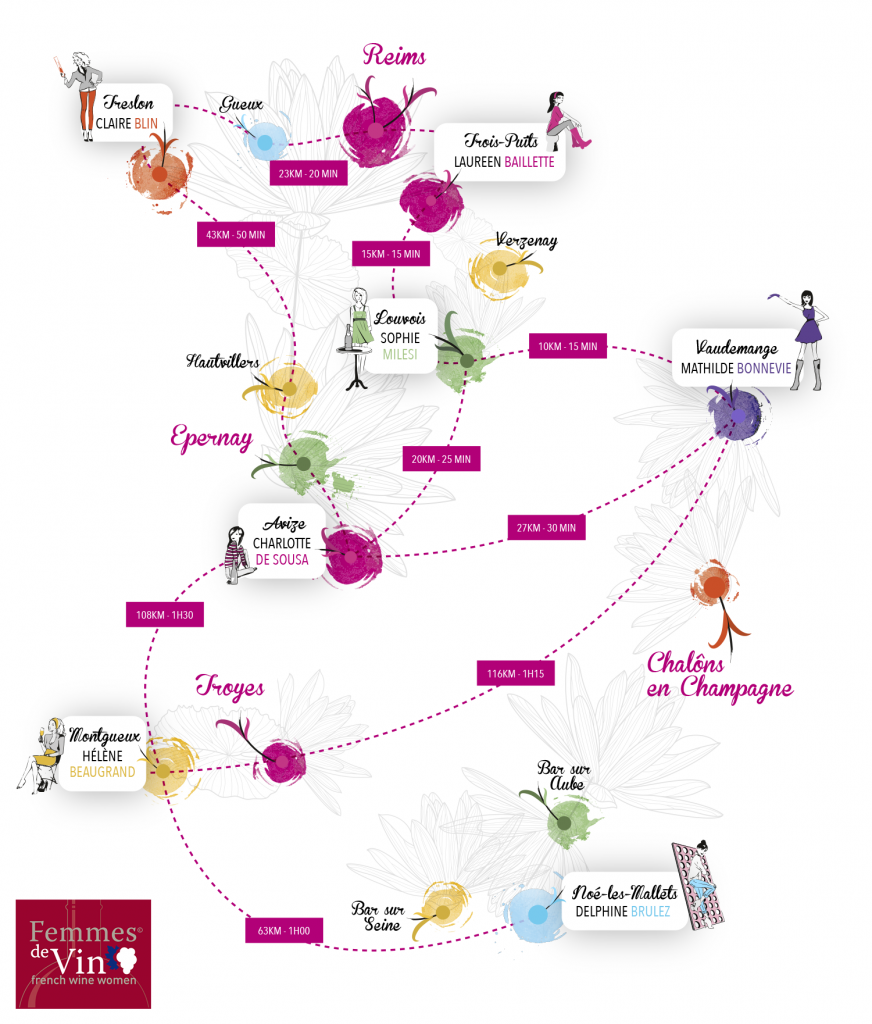 Although their image is light-hearted as they promote the joys of champagne, the Fa'Bulleuses are very serious about their passion and all have formal qualifications in oenology or viticulture and dedicated to their chosen field.
Peer support, communication and mutual respect are at the keystones of Les Fa'Bulleuses as they work to bring about change.
The founder of Les Fa'Bulleuses de Champagne, Laureen Baillette of Champagne Baillette-Prudhomme, has a familiar personal history in that she suddenly found herself in the position of having to step up to save the family business. In her case, it was after her father died when she was only 20 years old. With her mother and sister, Laureen started managing the vineyards that had been in the family for six generations.
She told "Grape Collective" that people were lining up to buy their vineyard and that the general reaction was "in one or two years she will be gone. She is only a girl, she will not succeed." Once again, the naysayers were proved wrong.
Both groups recognise that their goals need to be long-term, but as they say, working with champagne accustoms you to the long-term.
They are all committed to sharing and passing on their experience, culture, know-how and values, serving as the next wave of champions for women across the region, and leading a collective effort to modernize the future of Champagne. This evolution will have the double effect of changing cultural views of both women and champagne. Let's drink to that! Sante!