Looking back
What better way to celebrate International Women's Day than with a glass of champagne and a look at the resilient women, past and present, who have made champagne their life?
Champagne is often considered a wine produced traditionally by men and to be drunk by women. A misconception on two counts, since the statistics suggest that the genders are evenly split when it comes to consuming this iconic French beverage and female vigneronnes, though small in number, have always made their mark in the champagne industry.
Any reference to the women of Champagne has to begin with the redoubtable Veuve Clicquot. In 1798 a young woman named Barbe-Nicole Ponsardin married François Clicquot, son of the founder of the Maison Clicquot. François shared his passion and knowledge for champagne creation and distribution with his young wife.
When François died unexpectedly Barbe-Nicole, aged only 27, became the Widow or "Veuve" Clicquot. She was a woman ahead of her time and with tenacity and brilliant business instincts, changed her pre-destined path when she took over the estate.
Barbe-Nicole didn't just turn Clicquot's ailing business into a thriving empire, she also revolutionised the champagne production process through her willingness to experiment and innovate.
She created the first recorded vintage champagne in the Riems in 1810 and a few years later created the first "rosé d'assemblage" made by blending red wine with champagne, instead of the traditional method of just adding an elderberry liqueur for colouring.
In 1816 she came up with her most revolutionary and lasting invention: the riddling rack. This is a table which holds the bottles on an angle, forcing the sediment formed during wine ageing into the bottles' necks, to streamline the disgorging process and save time. This ingenious device took champagne making to a new level by guaranteeing a crystal-clear wine. It was quickly adopted by other wine-makers and the process is still used today, albeit in a recently mechanized form.
Another forward thinking champagne producer who had greatness thrust upon her was Jeanne Alexandrine Louise Mélin who married Alexandre Pommery in 1839. Her husband ran the family champagne estate while Jeanne took a traditional background role, caring for him and their son. As she approached 40, life took a dramatic turn. In the space of 12 months she gave birth to her daughter Louise and became a widow.
Like Madame Clicquot before her, Madame Pommery faced her destiny head on. She threw herself into developing the Pommery brand and expanding the business. She purchased 120 crayères (limestone and chalk pits) carved underneath the city of Reims by Roman soldiers during their occupation of Gaul. These became the famous caves – unique cellars that allowed her to store and age thousands of bottles in a temperature-controlled environment. Many other Champagne houses would later follow suit.
Counterbalancing her focus on building a luxury brand was her commitment to philanthropy and corporate responsibility. She set up the first pension fund and social security for her workforce; funded the Reims orphanage and nursery; supported artists and bequeathed artefacts and art to the Reims Museum and the French state.
Apart from her generosity to the community, Madame Pommery delivered another gift for which we are truly grateful – the first brut in the history of champagne, the Pommery Nature 1874. This was a radical move as the prevailing taste was for very sweet champagne (up to 300gms of sugar per litre, compared with now up to 12 gms per litre).
Jeanne was succeeded by her daughter Louise as head of Pommery creating a solid lineage of female leadership.
The third champagne widow who forged a path for the current crop of vigneronnes was Lily Bollinger, born Élisabeth Law Lauriston-Boubers in 1899. She married Jacques Bollinger in 1923; took over the presidency of Bollinger when Jacques died in 1941; and directed it until 1971. Dealing with being widowed and the Nazi occupation was a tough start to her presidency, but Lily rose to the occasion. She assuaged the invaders with free champagne and protected her villages by taking them into the cellars to escape bombing raids.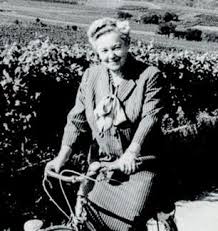 She was always on the move – either cycling through the vineyards at home or travelling abroad to promote Bollinger. She is possibly best known for her quote about champagne:
"I drink it when I'm happy and when I'm sad. Sometimes I drink it when I am alone. When I have company I consider it obligatory. I trifle with it if I'm not hungry and drink it when I am. Otherwise I never touch it – unless I'm thirsty."
However Lily was not only a wit, but also an innovator like her predecessors.
When opening and disgorging aged champagne for special guests in her cellar, Lily noticed that the complex aromas were fresher and more interesting than usual. Normally vintage champagne spends a minimum of 36 months ageing because the longer the wine spends in contact with the lees (dead yeast), the more complex the aromas. When the wine is sufficiently aged, it is disgorged (dead yeast is removed), re-corked and may sit for years before its public release.
Lily created the Récemment Dégorgé (recently disgorged) style of champagne in which the vintage bottles are aged for at least 12 years and disgorged only about six months before they are sold, creating the complex aromas. In 1961, she released the first RD cuvee so that champagne-lovers could enjoy this tasting experience.